Download the CHEF iQ® App
Discover. Create. Plate.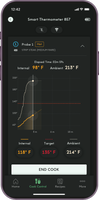 Introducing: Live Graph
Users can now toggle between the Dial and Live Graph views during a WiFi-enabled cooking session. The Live Graph allows users to track their food's internal and ambient temperatures and interact with the Live Graph in the same way as on the Dial.
Enhanced Temperature Guide
We've redesigned how Smart Thermometer users start a cook by reducing the overall steps and input required for a Quick Set cook or a Times & Temps cook. The Times & Temps interface is bolder and easier to digest, and users can now use the Presets (now called "Temperature Guide") to set up Manual cooks on the same screen. Lastly, we've made accessing your previous Quick Set or Times & Temps cooks easier.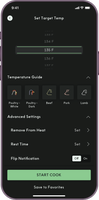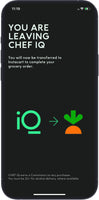 Shoppable Recipes with Instacart®
Missing an Ingredient? No Problem. Browse hundreds of delicious guided cooking recipes, add missing ingredients to your cart, and have them delivered straight to your door with just a few taps of the app.